There was an excellent turnout of riders and spectators at Ballyshallagh Road in Bangor recently for what was to be full two-days of racing classic dirt bikes around the beautiful hillside racetrack belonging to local landowner Cecil Pearson.
The event was organised by the Northern Ireland Classic Scrambles Club and their initial aim was to raise valuable funds for Cancer Focus and also to promote the profile of their organisation which has been running these types of off-road events in the area since 1989.
The club currently has over 280 members whose ages range from the very young racers right up to the more mature 60+ veterans who always put on a good show for the visiting spectators. The event was to be a get together for all classic scrambling machines from the early 1970's right up to the early 1980's. Many local riders turned up to take part and there was also a good contingent of Scottish riders who had made the short trip across the Irish Sea to attend the event.
Many of the local riders included David Wilson, William Burgess, James Thompson, and also Trevor Calderwood who won the CZ World Championship race event that was held in California USA back in 2016.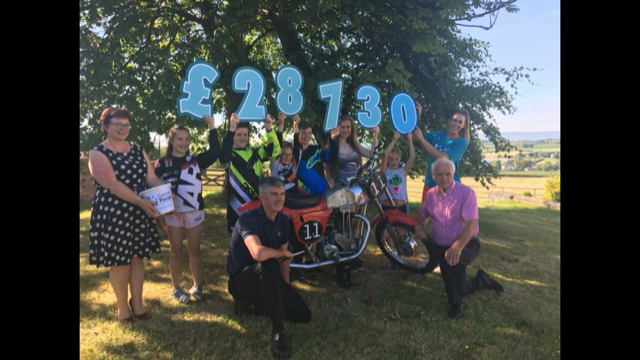 Landowner Cecil Pearson who is also a racer enjoys maintaining and watching his very unique collection of 1930's J.A.P scramblers being put through their paces by his team of local racers who contest these vintage bikes against much more modern machinery, and more often than not they win on a regular basis.
Fun, families and motorcycles was the topic for the weekend and it was a good get together for all concerned, although more importantly much needed cash was raised for a very worthwhile and needy charity Cancer Focus Northern Ireland, a total of over £25,000 was raised at this event, a fantastic sum of money for a condition which affects most families in Northern Ireland, this remarkable achievement earned the Club a round of applause at the recent MRA meeting.
Malcolm Beattie
MRA Press Officer